Early Learning Tips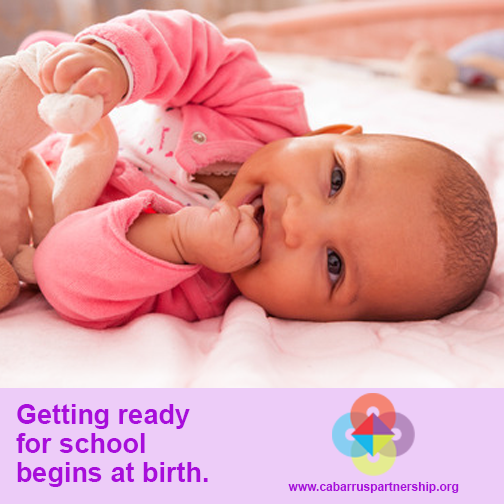 Children are born ready to learn. Their brain is the only organ that is not fully formed at birth and early experiences greatly influence how it grows. By age 3, the brain has already made trillions of connections between brain cells, making these early years a critical time for learning. Prepare your child for success in kindergarten and beyond from the moment they are born. Here's how:
Read to your child every day.

It's never too early to start sharing books with your baby. Sharing books with your child can help teach them to talk and get ready to listen and learn in school. It also helps them grow up to love books!
Choose simple books that have brightly colored designs and pictures. Books can be chunky board, cloth or soft bath books for chewing and gumming.
As you read, follow your baby's lead even if that means staying on the same page the whole time or reading the book upside down!
Name and point to the pictures your baby shows interest in.
Act out pictures using your face, hands and voice.
Read with fun and excitement in your voice! Try loud, soft or silly voices.
Read their favorite stories over and over. Children love to hear the same stories again and again. This is how they learn.
Talk to your baby and respond to their vocalizations and speech.

Researchers have found that the more words adults speak to their children, the larger the child's vocabulary is.
Copy your baby's sounds and encourage them to imitate you.
Talk through or comment on routines. For example, when your child is washing their hands, say "We are washing our hands. We are making lots of big bubbles!"
Respond to your child's nonverbal communication with words. If your child is reaching for blocks say, "I see you reaching for the blocks. Would you like to play with the blocks?"
Encourage your child to explore objects and toys in different ways.


Touching, banging, shaking, and rolling help children learn about how things work.
Talk with your child about what they are doing by saying things like, "You got the truck to move by pulling the string!"
Make everyday activities "teachable moments" by filling and dumping out cups to help your child learn about empty and full, and in and out.
Teach acceptable behaviors.

Tell and show your child what he can do, not only what he's not allowed to do. This will help your child learn right from wrong and to channel their energy and interests in acceptable ways as they grow - a key ingredient in school success.
As your baby grows into a toddler, begin setting consistent limits. Setting limits will help your child know what to expect when they show certain behaviors or when something occurs.
Establish routines.

Going to school requires following many routines. That's why it's important to establish routines with your child starting at birth. Routines are events that are predictable and happen approximately the same way at the same time each day.
Establish a nighttime routine that will help your child understand and learn to expect what comes next.
Set regular bedtimes and stick to them. Regular bedtime routines started with babies help prevent future bedtime struggles.
Make bedtime stories a part of your daily routine. Read from a variety of books, including fairy tales, poetry and nursery rhymes.
Sources:
"Getting Ready for School Begins at Birth" by ZERO TO THREE
"More Than Baby Talk" by Nicole Gardner-Neblett and Kathleen Cranley Gallagher
HealthyChildren.org from the American Academy of Pediatrics
Save
Save
Save
Save
Save
Save
Save
Save
Save
Save
Save
Save
Save
Save
Save
Save
Save
Save
Save
Save
Save
Save
Save
Save
Save
Save
Save
Save