Request for Proposals - FY2021-22 & FY2022-23
The Cabarrus County Partnership for Children, Inc. (CCPFC) is seeking qualified organizations with expertise in early childhood to support our local community with evidence-based or evidence-informed services for children birth to five and their families.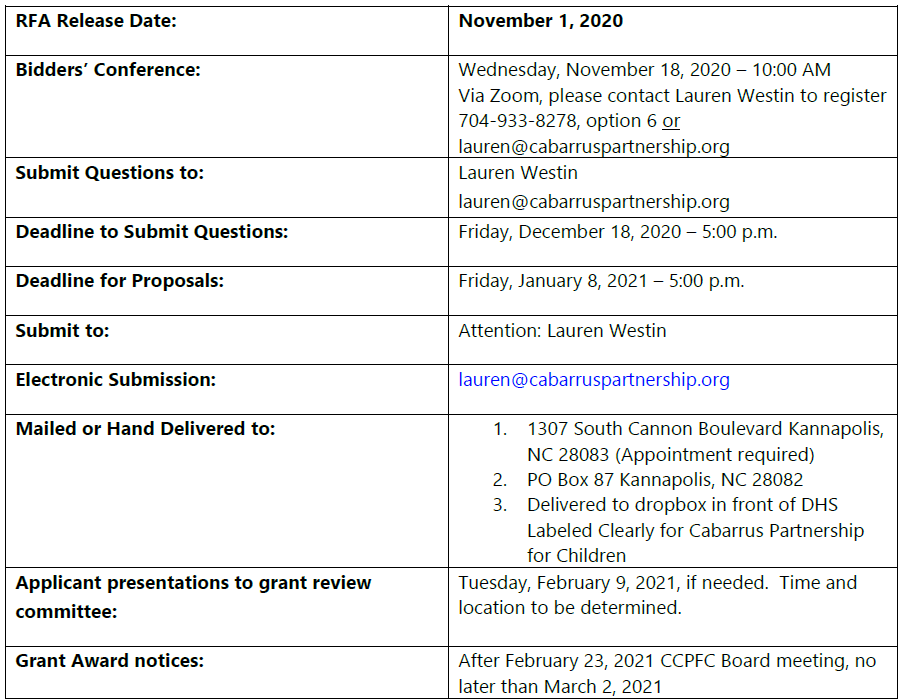 Applications should be submitted both in hard copy and electronic format no later than the date and time listed above. Late applications will not be accepted. Faxed applications will not be accepted. Please keep in mind that the Partnership Office may have different hours and may be closed on some days due to COVID-19 restrictions, if you are scheduling a delivery please call to set up a delivery time or determine our office hours.
General Information
Introduction
Smart Start is North Carolina's nationally recognized and award-winning early childhood initiative designed to ensure that every young child living in North Carolina enters school healthy and ready to succeed. The Cabarrus County Partnership for Children is the local non-profit organization that administers Smart Start funds in Cabarrus County. We collaborate with existing programs and support the creation of new ones to measurably strengthen families and improve the lives of children.
The Cabarrus County Partnership for Children (hereinafter referred to as the "Local Partnership") is soliciting proposals to establish a contract through a competitive process. The purpose of this Request for Application/Proposals (RFA/RFP) is to acquire the services of qualified programs (hereinafter referred to as the "Contractor") to support our local community with evidence-based or evidence-informed services for children birth to five and their families.
Purpose of Request
Experiences during early childhood literally shape the structure of the brain. Because today's children are tomorrow's leaders everyone has a stake in making sure that all children have the experiences they need to thrive. Providing support to the programs and people who are involved in a young child's life—families, teachers, doctors, caregivers, social workers, and many others is a way to ensure every child has all they need for healthy growth and development.
The Local Partnership is seeking proposals from programs that are interested in providing services that support the quality and availability of early childhood services that address the needs of children from birth to age five, their families and/or caregivers specifically around the Local Partnership's priorities of substance use, mental health, and obesity.
Priorities are based on the following community-based needs:
Early Care and Education – Quality and Early Care and Education – Workforce: Increasing the quality of infant/toddler early care and education. (Roughly 38% of our County's infants and toddlers do NOT receive high quality early care.)
Family Support - Family-focused programs that improve parenting and promote involvement. Some ways these can help ensure children's success are: parent education programs that give parents tools to increase their knowledge of early childhood development and positive parenting practices, as well as home visiting programs to help new parents and parents-to-be by providing education, information and resources.
Health - Increasing prenatal and infant/toddler access to healthcare and working with providers, health departments, families, and communities to improve the health and safety for young children (19% of children in Cabarrus County enrolled in Medicaid are NOT receiving well-child visits), increase healthy weight (34% of Cabarrus children are NOT at a healthy weight), and ensure that more children are screened for developmental delays and referred to services for help before they start school.
Downloads
RFP - General Information and Requirements
Supplemental Documents
Outcomes and Measures for FY 2020-21
Program Identifiers and Outputs for FY 2020-21
Early Childhood Profile - Results for FY2018-19
Activities in Revised Smart Start EB/EI Ratings (rev. 9/19/18)
Smart Start Cost Principles (rev. 7/1/18)
---
Frequently Asked Questions
Q: I noticed a clause that stated the vendor needed to be located in the county. Is this in reference to the services or does the contractor need to be physically located in the county? Also, are you looking for the services to be completed in person, or are online/virtual services acceptable?
A: The vendor does not need to be located in Cabarrus County, however the services have to be provided in person in Cabarrus County. I hope this answers your question, and the link to register for the training is below.


Q: I am a mobile/community service provider and as such was wondering if I choose the location where services will be provided within Cabarrus county or if a space will be provided?
A: Services must be provided in Cabarrus County for Cabarrus County resident only. We do not provide space as part of the grant funds.



Q: Does the "19% in kind" contribution include internships provided through local colleges/students?
A: You can document the intern's time as volunteer hours and this would count as match. You can use the NCPC approved volunteer rate, which is currently around $25/hr.



Q: Are proposals automatically denied if there are not sufficient funds within the partnership or will the organization be provided with a "counter offer"?
A: Proposals are approved based on scope and need within the community by our Program Oversight Committee and then recommended to the board of directors to fund. Funding of programs are determined by the board of directors of the Cabarrus County Partnership for Children and the amount of funding allocated by the state of North Carolina for Cabarrus County.



Q: I am a newly formed LLC and therefore have no financial statements, is this an issue?
A: Audited financial statements are not required unless the contract is over $500,000 (section 21 of the FY20-21 DSP contract), but should be provided if available. For contracts under $500,000 the requirements are for the board and/or management of the organization to provide a certification that state funds were received and used for purposes granted and a description of activities and accomplishment.



Q: What do letters of support consist of?
A: Letters of support are from other agencies or organizations that have worked with you and can share about their experiences working with you.



Q: Is there a maximum number of successful awards per applicant? Or if not a maximum, a best practice in the number of awards per agency?
A: There is not a maximum allowable number of awards per agency or a best practice number, however your agency should concentrate your applications on the ones that fit best with Smart Start and/or the Partnership's goals as outlined in the RFP.



Q: We did not see an award ceiling or maximum amount that can be applied for. Can you please share that, as it is difficult to plan for the scope of services when the budget limit is not known.
A: There is no award ceiling or max, however our Smart Start funding is completely dependent upon the amount allocated to us by NCPC and we will not know that amount until mid 2021. We base our initial programming decisions on the allocation from FY20-21 In FY 20-21 our Smart Start services allocation was $2,124,941. Of that amount 41.3% is mandated to be spent on Subsidy. Also, 70% of the services allocations must be spent on other childcare related activities and 30% on family/other programming. I'm not sure which category your application would fit into, however I would make sure that you determine how best your proposal fits into Smart Start and/or the Partnership's goals as outlined in the RFP.



Q: Where should the program identifier (PID) be located in the application?
A: Please include this under the Program Elements section of the logic model.



Q: I found in the Cost Principles that Gift Cards and Other Pre-Paid Instruments may be purchased for use in limited circumstances, such as, but not limited to:
i. Incentives or rewards for participants in services activities;
ii. Gas cards for participants in services activities to help cover transportation costs;
Since we likely will be asking [participants] to use their personal phones to participate in teleservices, is it an appropriate use of funds to provide them with a phone card or gift card to cover the cost of minutes/cell phone use? Of course we'd be sure to document the use of gift cards according to policy.
A: Yes, this would be similar to the use of gift/gas cards as incentives and would be treated/documented in that fashion.



Q: Is PPE an allowable use of funds for this next cycle of funding?
A: Yes, the direct service providers are allowed to include purchases of PEE for their staff. It has to be used while performing the Smart Start funded activity and cannot be given out. It would go on the office supplies line of the budget.



Q: I am curious if the deadline for RFP- FY2021-22 & FY 2022-23 may be extended past the January 8, 2021 date?
A: Unfortunately January 8th is a firm deadline. Our program oversight committee needs to have adequate time to review and make a decision on the submitted proposals.



Q: In regards to the PID, EI/EB programs do we just select which program we fit into and use their peer researched articles or are we supposed to find our own articles? If my proposed project has additional activities not listed in any current program do I need to include articles related to efficacy?
A: If your program is one of the EI/EB programs listed then you can reference the page number from the document; if it is not one of the programs listed then you need to submit documentation showing that your program is evidence-based or evidence-informed. You should not try to fit your program into an EI/EB listed program unless it is specifically that program. The PID is separate from the EI/EB listings, and you would want to pick the PID that best represents and tracks what you are trying to accomplish with your program.



Q: In the budget narrative, are my personal funds the "cash contributions" and any outside grants and volunteers listed under "in kind"?
A: Any actual cash you receive from any source for the Smart Start funded activity would be cash (and in this case cash means cash, checks, cc payments etc). In kind would be time or items donated or time/items provided by your organization used in the Smart Start activity, but that you do not request reimbursement for.



Q: If I list a certain number of paid employees but I end up not needing as many employees due to Cabarrus county needs do I just reimburse that money back to the partnership?
A: Yes, you can always submit a change request based on the needs of the community and your organization. The revision may or may not be approved by our board.



Q: What does the question "does the program have outreach and recruitment plan with multiple active strategies or passive strategies?" mean?
A: This question refers to how you plan to reach your target population and recruit to your program to meet your projected outputs.



Q: Are the services funded by the partnership for ages 4-5 only provided to children enrolled in their smart start programs/childcare facilities or are homeschooled children also included?
A: Services funded by Smart Start are for children ages birth to five years old not yet in Kindergarten. There is no requirement for whether they are enrolled in childcare or not, the requirement is that they reside in Cabarrus County.