2021 Week of the Young Child Recap
The Cabarrus Partnership for Children, Cabarrus County Government, and Early Childhood Foundation of Cabarrus County (ECFCC) partnered together to provide a virtual Week of the Young Child (WOYC) Celebration from April 10-16, 2021.
WOYC was established by the National Association for the Education of Young Children (NAEYC) in 1971, making this year the 50th anniversary of the celebration. The purpose of the WOYC is to focus public attention on the needs of young children and their families and to recognize the early childhood programs and services that meet those needs.
Why invest in early childhood education

There are only 2,000 days between birth and the beginning of kindergarten. 90% of a person's brain growth occurs during this time!
Decades of early childhood research studies demonstrate that children with access to high quality early childhood development and health opportunities are more prepared for kindergarten, do better in school, and are more likely to graduate and enroll in college. They also tend to be healthier and more productive members of society.
TAKE ACTION IN YOUR COMMUNITY
Know your resources: Explore early childhood programs and resources that are available to young children in your community. Educate and refer others to these programs and resources.
Speak up! Share your experience and knowledge with parents, colleagues and anyone willing to listen. Refer back to the resources and programs on our website, or contact us if you have any specific questions that we can help you answer.
Raise awareness: Help raise awareness about the need for early childhood programs by sharing its benefits and encouraging others to support and invest in their local programs.
Get involved with policy: Contact our Executive Director, Ann Benfield, if you are interested in becoming a local advocate for early childhood.
Vote with early childhood education in mind: In local, state and federal elections!
Donate to support local programs: Your support allows us to provide free, high-quality early education, health and family programs for children ages birth to five, their families and the providers who care for them. Our programs include NC Pre-K, Dolly Parton's Imagination Library, child health screenings, emergency dental services, support and education for parents/families with young children, and training and support for childcare providers to increase the quality of care in our early childcare centers.
Downloadable Graphics
WOYC cabarrus county Proclamation
The Cabarrus Board of County Commissioners proclaims April 10-16, 2021 as the Week of the Young Child and encourages all Cabarrus County citizens to work to support and invest in early childhood. Additionally, the entire month of April will be recognized in Cabarrus County as the Month of the Young Child.
Read and share the proclamation signed by Cabarrus County Commissioner, Steve Morris.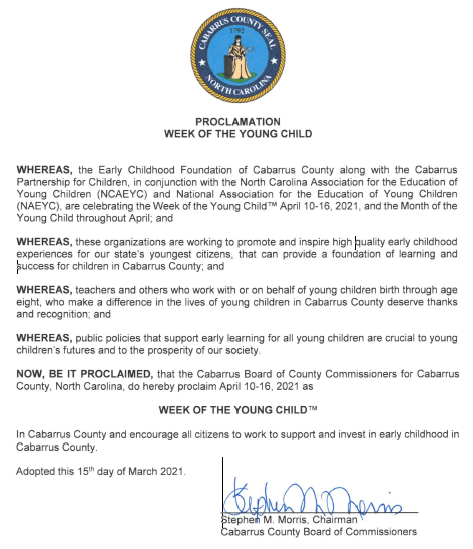 Download the Proclamation (PDF)
---
Celebrate THE WEEK OF THE YOUNG CHILD ALL YEAR ROUND!
Music Monday

When children sing, dance, and listen to music, they develop their language and early literacy skills while being active and encouraging movement. Make up and record your own unique version of a song or write your own, and show others what you are doing to celebrate Music Monday by sharing a video on social media -- be sure to tag the Cabarrus Partnership for Children in your posts!
Tasty Tuesday

This fun, food-themed day is about more than just cheese and crackers. Cooking together connects math with literacy skills, science, and more. With the rise in childhood obesity, you can encourage healthy nutrition and fitness habits at home and in the classroom. Create your own healthy snacks and share the recipes and photos of your creations on Facebook, Twitter, and Instagram -- tag the Cabarrus Partnership for Children!
Work Together Wednesday

When children build together they explore math and science concepts and develop their social and early literacy skills. Children can use any building material—from a fort of branches on the playground to a block city in the classroom, or a hideaway made from couch pillows at home. Build and share pictures of children's creations and show others via social media -- tag or share with the Cabarrus Partnership for Children so we can see your activity too!
Artsy Thursday

Think, problem solve, create! Children develop creativity, social skills and fine motor skills with open-ended art projects where they can make choices, use their imaginations, and create with their hands. On Artsy Thursday celebrate the joy and learning children experience when engaged in creative art making. Use any materials—from crayons to paint, clay to crafts! Create and share photos of your children's creations on social media -- don't forget to tag us!
Family Friday

Engaging and celebrating families is at the heart of supporting our youngest learners. NAEYC applauds family members' role as young children's first and most important teachers. Share pictures and stories about your family on social media -- tag the Cabarrus Partnership for Children.
---
Additional Information
NAEYC
The National Association for the Education of Young Children first established the Week of the Young Child in 1971, recognizing that the early childhood years (birth through age 8) lay the foundation for children's success in school and later in life. WOYC is a time to plan how we - as citizens of a community, of a state, and of a nation - will better meet the needs of all young children and their families.
Cabarrus Partnership for Children
Cabarrus Partnership for Children is a 501(c)(3) nonprofit organization that provides programs in Cabarrus County for families with children ages birth to five years in early education, health services, and parent support and education. We provide quality child care, literacy programs, child safety programs, family support programs, and help families access needed resources.