School's Out Bash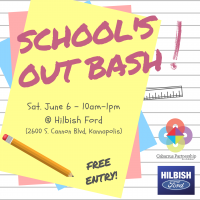 From June 06, 2020 10:00 am until June 06, 2020 1:00 pm
A Healthy & Safe Summer For All
Safety demonstrations, tips and resources
Healthy summer activities, demos and resources
Summer learning and reading activities and resources
And more!


School's Out Donation Drive
During the event, we will be collecting items to support foster children in Cabarrus County. Please consider bringing items to donate for children ages 0-18, such as:
New Pack 'n Plays
New Backpacks
School Supplies
Quilts/Blankets
Diapers and Wipes
Toiletries (Comb/Brush, Soap, Shampoo/Conditioner, Body Lotion)
New Toys/Small Stuffed Animals
New Underwear - All Children's Sizes
Vendor Opportunities
Local family-friendly vendors are welcome to participate in the event for a $50 donation to the Cabarrus County Partnership for Children. Visit the link below to read full details and to submit your vendor interest form.
How does the School's Out Bash benefit your community?
Cabarrus Partnership for Children is a 501(c)(3) nonprofit organization with the mission to connect purpose, people and programs to ensure child well-being in Cabarrus County, North Carolina. All proceeds from our vendors and donation drive will support local foster children and their new families.
---
Special thanks to Hilbish Ford for making the School's Out Bash possible. Thank you for your ongoing support!