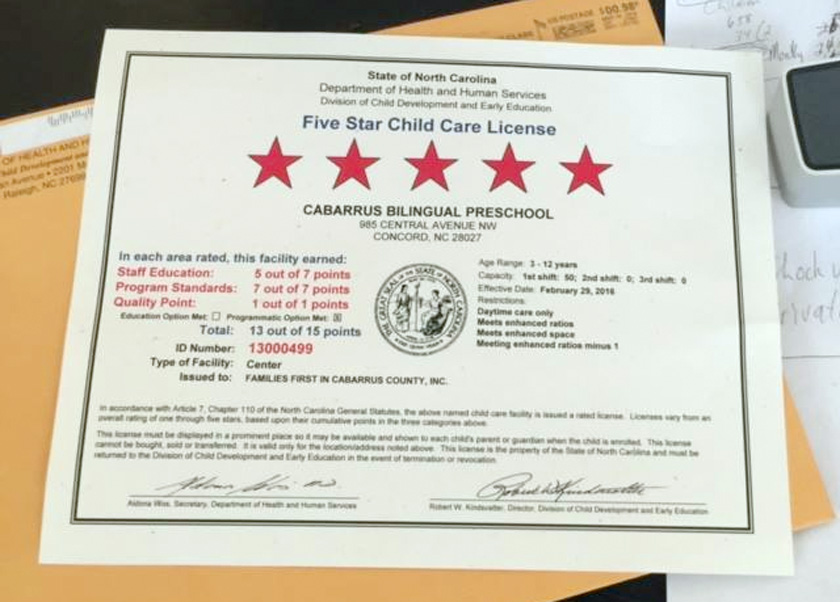 Families First in Cabarrus County
Putting Families First
As part of our mission to better the lives of children in the community, we've teamed up with Families First in Cabarrus County, a local nonprofit organization serving at-risk children and families, to help provide children and their parents with needed resources they need to improve their lives both at home and in school.
Founded in July, 2014 by Spencer and Aurora Swain, FFCC works to make a positive impact in the lives of Cabarrus County children by implementing three separate programs aimed at improving early childhood development. Programs include Parents as Teachers, Celebrating Families, and Cabarrus Bilingual Preschool, each one fully offered in both English and Spanish.
Building a Five-Star Facility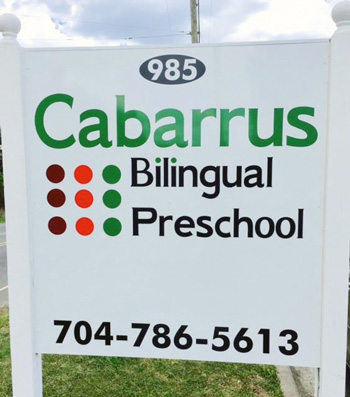 In April, Cabarrus Bilingual Preschool, a learning program for preschool children, was awarded a Five-Star Child Care License by the North Carolina Division of Child Development and Early Education. This rating is the highest a childcare facility can receive in the state of NC, a distinction made all the more meaningful by the fact that the preschool has been open for only six months.
"We are excited to be awarded the highest ranking by the North Carolina Division of Child Development," said Spencer Swain, Executive Director of Families First. "It shows our parents how devoted we are in providing excellence in care, learning, health, and a safe environment on a daily basis."
The distinction reflects Bilingual Preschool's commitment to quality, providing children support from a top-notch bilingual staff and exposing them to a wide variety of developmentally appropriate experiences.
A Creative Curriculum
The preschool utilizes a bilingual developmentally appropriate curriculum called Creative Curriculum, which has proved to be very beneficial in helping children cultivate skills both academically and interpersonally.
"Creative [Curriculum] gives us the tools to ensure development in all areas: cognitive, social-emotional, mathematics, physical, science and technology, social studies, arts, and language," said Swain.
The bilingual nature of the curriculum also assists the preschool in taking an innovative approach to stimulating skills in English and Spanish, as it allows the program to create an environment in which an emphasis is placed on both languages.
"Too many programs spend increased time 'teaching' English, which reduces the time children spend on learning much-needed concepts and content," said Swain. Part of the preschool's overall success has come from its commitment to providing support for both the home language and culture of its Hispanic children, in addition to exposure to English.
Outdoor Learning
Recently, the program was awarded a new play area, which is being built by the University of North Carolina at Charlotte's chapter of Freedom by Design, a member of The American Institute of Architecture Students. Phase I allows Families First to expand the preschool to an outdoor learning space complete with an amphitheater, numerous tunnels, inclines, an acrylic garden wall and centers for art, music, and math exploration. Phase II of the vision, and UNCC's master plan for this space, is a "racetrack" to be completed this time next year.
"It has been special to work with this group, watching them creatively align their design skills and talents with our philosophy of learning and development," said Swain. "We will have a wonderful place for all ages and after school programs that can benefit from the value of being a learner outdoors."
Summer Learning
Bilingual Preschool is also excited to announce that ESL (English as a Second Language) classes, which are a recent addition to the program, conducted in partnership with the Cabarrus Literacy Council, will be continuing through the summer months.
To get involved with Bilingual Preschool and assist with ESL classes, please contact Spencer at (704) 202-5057 or visit www.familiesfirstcc.org.