Dolly Parton's Imagination Library


Cabarrus County's Dolly Parton's Imagination Library (DPIL) program mails a free high-quality book to children that reside in Cabarrus County from birth to age five. All you have to do is sign up your child!

Through funding from NC Smart Start, the Cabarrus County Partnership for Children administers this free book-gifting program to children living in Cabarrus County who are under the age of 5. Simply visit this page to register your child and wait for their first book - "The Little Engine That Could" - to arrive in the mail in about eight weeks. Books will be mailed to your child every month after that until they are five years of age. Please remember to contact the Partnership if you move or your address changes.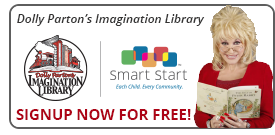 ---
Does my child qualify?

If your child resides in Cabarrus County and is under the age of 5 years old, then yes! They are qualified!

How do I register my child?

Click here to visit the registration page on Smart Start's website.

Are there any shipping & handling costs?

No - DPIL is completely free to families, with no shipping or hidden fees.

Can I transfer my child's DPIL account from Cabarrus County to a new county if I move?

If the county your child is moving to administers DPIL, you can change your address by logging in to your Dolly Parton's Imagination Library account.
If your child is moving away from Cabarrus County, call (704) 933-8278 to request that we change your address for you. Once this change is made, we will be able to transfer your registration over to the organization in the county you have moved to as long as they also administer DPIL.
---
---