T.E.A.C.H.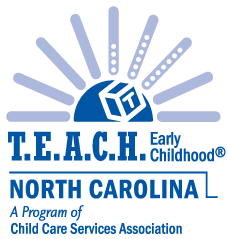 T.E.A.C.H. offers scholarship opportunities for Early Care and Education Community Specialists who want to take coursework leading to an associate, bachelor's degree or graduate coursework in early childhood education. Early childhood education degree completion is not required. These scholarships are competitive and will be awarded to individuals who clearly demonstrate their commitment to early care and education. Scholarship applications are now being accepted for the 2021-2022 academic year!
Eligible positions include:
Early Childhood Workforce Coaches and Mentors
Head Start Home Visitors
Home Visitors, including Parents as Teachers
Technical Assistant Specialists
Professional Development Specialists
Community College Early Childhood Instructors
Early Intervention Specialists
Child Care Health Consultants
Health Department (Nurse Educators)
Child Care Program Nutritionists
Division of Child Development and Early Education (Licensing Consultants)
T.E.A.C.H. can help most non-teaching professionals working in North Carolina's early care and education system increase their education in early childhood focused or relevant coursework, receive financial support to help offset tuition, books and other costs and prepare for Early Educator Certification.
No financial obligation for coursework from employer!



Click here to download and share the program flyer.